If you've been following my posts here at 5 Minutes for Going Green, you know I'm all about taking baby steps toward eco-living. In other words, I tend to take two steps forward, followed by at least one squarely on my cushy bottom.
One step forward I've taken recently is to bake and cook healthy, whole-food after-school snacks for my kids. I'm tired of buying over-processed, heavily-packaged snack foods that destroyed my grocery budget.
Three winning recipes my (picky) kids happily eat:
Egg and cheese sandwiches:
2 packages English muffins (I buy wheat)
2 dozen eggs (I go with free range)
24 slices cheese (cheddar for our family)
Optional: ham slices or the veggie equivalent (we like Yves brand)
Fry the eggs individually (we cracked them right into circular cookie cutters on the griddle to keep their shape). Toast the English muffins (butter lightly if desired).
Assemble the sandwiches: place one egg and one slice of cheese (and ham if desired) between the halves of one English muffin, wrap in a small amount of plastic wrap*, and freeze. I keep all the sandwiches together in a big bin in the freezer. All the kids need to do is grab one, microwave for two minutes, and eat!
*If anyone has an alternative for the plastic wrap, I'd love to hear it! It was the only way I could think to prevent freezer burn. (This would be my one step backward, wouldn't it?)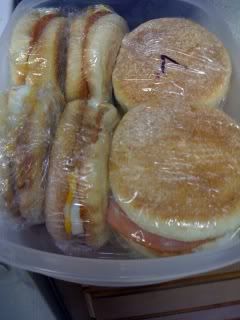 ABC Muffins:
(Recipe from The Compassionate Cook)
I try to make a batch of these about 20 minutes before my kids get off the school bus. It makes them happy to smell them baking as they arrive…and that makes me happy!
2 cups flour
4 teaspoons baking powder
½ teaspoon cinnamon
½ cup sugar
1 ½ cups apple juice
1 medium apple (pealed, cored, and chopped)*
2 ripe bananas, mashed
½ cup cashews, chopped**
Combine dry ingredients. Add the apple juice, apple, banana, and cashews and stir well. Pour batter into muffin pan. Bake for 35 minutes at 325 degrees. (Makes 12 muffins.)
*If in a hurry, you can use chunky applesauce
**My kids don't like nuts in their muffins, so I usually substitute with cranberries or raisins
Peanut Butter and Jelly Pancakes:
2 dozen homemade pancakes (we use half wheat flour)
Peanut butter (whichever brand your kids prefer)
Jam or jelly (we use our uncle's homemade organic)
Next time you're making pancakes for breakfast, make a bulk batch. Freeze the pancakes individually. For snack time, microwave the pancakes for 30 seconds, spread with peanut butter and jelly, and slap another one on top. Viola! A peanut butter and jelly sandwich…pancake style.
Obviously, these are not complicated recipes. Two of the three aren't recipes at all! I know I'm not introducing you to anything ground-breaking here, but if you're like me, sometimes you need a reminder that things can be simple…and that after-school snacks don't have to involved artificial flavors, safety seals, and five kinds of wrapping!
::: ::: :::
Amy Whitley is excited to be writing bi-weekly for the 5 Minutes for Going Green team! You can read more about her attempts at eco-living at her blog The Never-True Tales and find great places to travel with children at her review site Pitstops for Kids!.