Valentine's Day is getting close and that means lots of chocolate. The annual world consumption of cocoa beans averages around 600,000 tons per year. But do you know how your chocolate was made? 70% of the world's chocolate comes from the Ivory Coast where most of the chocolate is farmed using child labor.
Don't worry though, you can give up child labor without giving up chocolate. By buying fair trade certified chocolate you can be sure that your chocolate is child labor free and those who made it were paid fair wages. Fair trade chocolate is becoming much more common as people are learning how most chocolate is made and are demanding a change, keep pushing and someday all can be fair trade!
Here are some great fair trade chocolate options.
Equal Exchange makes wonderful organic, fair trade chocolate. They support small farmers in the Dominican Republic, Panama, Peru, Paraguay, Costa Rica, and Madagascar. They have many options ranging from Organic Very Dark Chocolate to Organic Mint Chocolate with a Delicate Crunch.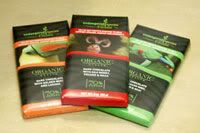 Endangered Species Chocolate is one of my favorites because they help endangered species (could you have guessed that?!). It's ethically traded and 10% of net profits go to helping endangered species and Habit For Humanity. They have a wide range of organic and all natural chocolate to choose from including some special treats for Valentine's Day!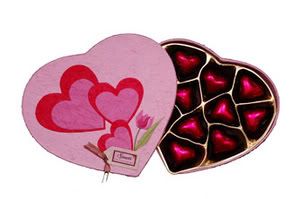 Sjaak's Organic Chocolates are fair trade and organic. They have a wide range of products and have a great selection right now just for Valentine's Day, including some yummy sounding cherry truffles!
You will also find more fair trade chocolate at The Natural Candy Store. As you can see you can still get great chocolate without using child labor!
:: :: ::
Read more about Lisa's quest to be more sustainable at Retro Housewife Goes Green.