One of the best things about the movement toward natural and green living is the abundance of wonderful natural/green toys available nowadays. Most of the toys you see when you shop at big box stores will be plastic and while I believe plastic does have a place in our lives I am sure I am not the only parent to see the problem they present. Plastic toys are usually low quality, they break easy, and they can't be recycled usually. Kids get bored playing with then because they really aren't that stimulating and they capitalize on the latest hot trend or "character" that will be soon be forgotten or replaced. You might buy up tons of Cars the Movie toys only to find your child is now all about Speedracer. And let's not even get into the lead paint in toys fiasco that rocked the toy world recently.
Luckily green parents have many options for natural toys that stimulate creative play, last a long time, are made of sustainable materials and are painted with safe paints. Here are some of the natural toy classics we love in our home:
Hammer Balls –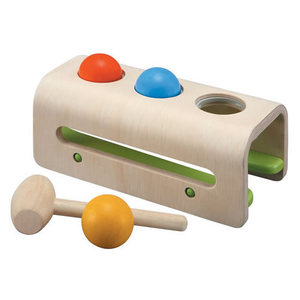 This new toy is basically a natural rubberwood block with slots for three balls. Kids fit the balls into the slots and hammer them until they release on the underside. A hammer comes with it. This is a great toy for improving hand-eye coordination (aligning, slotting, aiming), combined with all the fun of hammering. What toddler doesn't like to hammer on things??? I know my 2 year old one does! It is made with natural, chemical free, recycled rubberwood and finished with non-toxic water based dye all from a green company.
Bausteine Eene, Meene, Zoo Haba blocks – These blocks are colorful and fun for babies and toddlers. It is a collection of 25 wooden blocks shaped like fun and colorful zoo animals. My two year and my four year really enjoy playing with these daily.
Playsilks – The power of a simple playsilk can't be beat. Playsilks can be used as a flag, a veil, a fairy skirt, a tea party tablecloth, a boat sail, a headwrap, a curtain, a sarong, or a doll sling or hammock. Watch what your children can create on their own.
Dominoes – Kids love dominos. They love setting them up and watching them topple one at a time…and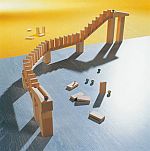 then doing it all over again!! Domino Rally is a great game for domino lovers. Build the domino track, and then tumble it down with one tiny push of the marble! You can also add on to this set with other ball track sets. These sets are educational and they help children develop hand eye coordination and problem solving skills.
Green Toys  – This toy company makes plastic toys made form recycled milk jugs. So yes they are plastic but they are recycling, which I love, instead of using brand new plastic for their toys. They have no phthalates or BPA and they are really pretty fun. There is a tea party set, a pretend play cooking set, a sandbox set, and a gardening set.
Have you run across an awesome green/natural toy? Share with me by commenting below.
You can read more from Tiffany at her blog for Green Moms, where she writes about green family living, parenting, natural health, safe children's products, and homeschooling. Subscribe to her blog here.
Original post written for 5 Minutes for Going Green.