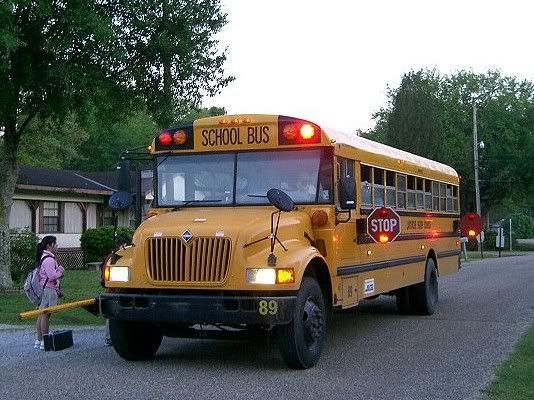 Because I make them.
It's as simple as that. Just like I make them turn off lights when the leave a room and make them turn off the tap water while brushing their teeth and make them place empty cereal boxes in the recycling bin.
They don't like it much. They say the bus smells (it does!) and sometimes, kids are rowdy. Often, they tell me, the bus driver is grouchy. If I drove them to school, they argue, they could sleep in a bit later (not that they would!) and would get home a bit earlier in the afternoons.
It's true. And yet, I persist in making them ride it. Why? Because we live only one mile from their school. In fact, 90% of students included in this school's zoning district live within a three-mile radius of the campus. And yet, when I used to drive them every morning and pick them up every afternoon, I'd wait in an exhaust-filled line of cars (each with one parent in it) almost a quarter-mile long.
It was ridiculous. There weren't enough spaces for these cars. Children were clogging the front entrance waiting for their rides and migrating to the (off-limits) side road to meet their vehicles. It was a long, inconvenient, and frustrating experience. As far as I know, it still is, but I refuse to be a part of it. My kids and I have made a change. Now, they walk half a block to meet their bus in the morning, and step onto it at the curb outside their classrooms in the afternoon.
And they don't much like it. (But then again, I don't much like using cloth napkins…but I'm doing it anyway!) And there's one less car on our neighborhood roads between 7:15-7:30 am and 2:15-2:30 pm.
Do your kids ride the bus? Do you car pool? What works for you? Also, what green measures have you implemented that your family rails against?
::: ::: :::
Amy Whitley is excited to be writing bi-weekly for the 5 Minutes for Going Green team! You can read more about her attempts at eco-living at her blog The Never-True Tales and find great places to travel with children at her review site Pitstops for Kids!.