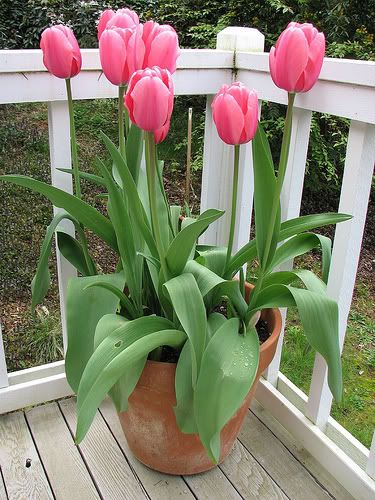 There is nothing that makes winter more bearable for me than hope.
The hope of spring, of budding flowers, of green again. Since November, Michigan has gotten less than 20% of actual sunshine, and let me tell you, we're feeling it. If it were economically feasible, I would start heading to the tanning booths for a shot of Vitamin D. Unfortunately, it's probably not the best for my skin anyway.
I like to make preparations in the fall to give myself and my household a little boost in the middle of February. Being that my thumbs are mildly green and I have an obsessive need to fill my house with all manner of growing plants, I started looking into ways to get flowers out of the ground a little earlier each year.
The easy answer: buy a pot of flowers from your local grocer or florist. Keep them well watered and when they lose their petals later, you can still plant them in your garden or around your yard to return the following year. I love receiving a live pot of flowers for Valentine's or my birthday, and immediately start to plan out where they will go in my small plot of earth.
If, however, you don't have a garden or yard space for new buds, I have a fantastic solution for you. It takes a little bit of planning and preparation, but the return is definitely worthwhile.
Let's say you just bought a lovely live pot of tulips to brighten your wintry home. After the petals fall from their stems, carefully dig up the bulbs. Using a very dry mulch or hay, pack your bulbs and store them in a cool, dry spot away from any sunlight. Come October, (like I said, preparation & planning) pull out your pot and potting soil and plant the bulbs about 5 inches into the soil. Water some, but don't over-water. Put your pot back in the cool, dry, unlit space and go back to prepping for Halloween.
Once a month, give your bulbs a modest drink.
Within a couple months, you will start to see sprouts.
About two weeks before you want to have bright, cheerful blooms on your kitchen table, (generally around mid February) bring your pot out of hiding, give it another good drink and put it in the sunshine. Shortly thereafter, you will be able to watch your tulips, hyacinths, or daffodils open their wings and turn their faces to the sky.
I have tons of gorgeous tulips that will burst forth into song come March and April. Dozens of daffodils and grape hyacinths that will grace us with their presence. But sometimes I need the fresh greens and vibrant colors sooner.
Plus, you will have fabulous, inexpensive gifts to give for late winter or spring birthdays! Bulbs are so inexpensive, and if you snatch them up at the end of season sales in October or November, they are an even better deal.
So go out and buy yourself some color and sunshine. Just remember to save your bulbs for your sanity next year as well!
An original 5 Minutes for Going Green post. Read more from Anne, including her attempts to be frugally green, eat healthfully, raise her baby girl and color inside the lines on twitter or at her blog, a little bit crazy.
And remember, the Bummas Giveaway is going on until Sunday March 1st at 7pm EST, and all you have to do to enter is comment on the giveaway post with a valid email address; if you haven't entered yet, what are you waiting for?